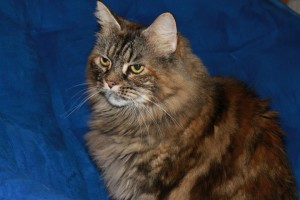 A few nights ago, my tabby coloured cat, interspersed with lovely shades of brown, passed away with almost no shadow of warning. Ascension, or Gorgeous as we sometimes called her, was 14 years  old. She came to live with us when several of my daughters encountered some people outside a pet store who had a small abandoned kitten to find a family for. Ruthmarie and Andrea failed to mention to their Dad exactly what they were bringing home. He said her little squeaks sounded like a bird's. However, she was a fully-fledged feline and we fell instantly in love with her.
To our knowledge Ascension had not been ill. Except for a little extra stiffness in moving around, she did not look like an older cat. Her fur was glossy and thick, and as the alpha cat, she had no trouble maintaining her position. The day she died, Ascension appeared to be fine until around suppertime. She was lethargic but that had happened before. We made sure she had some water and my daughter, Andrea, settled her comfortably in her bedroom.
Sometime around 2:30 a.m. Andrea came to our bedroom door and said there was something terribly wrong with Ascension. We brought her to our room and I lay down beside her. She had a short spell of convulsions and then was still. I kept my hand on her, certain she was still alive. My husband had to do the hard part and convince me that she had slipped away, with me crying and telling him not to take her  from me. He put her in a little box and I cried inconsolably. She was very much my cat and I wonder if I will ever get over feeling the way I do now.
We all experience loss and it is never welcome. Losing something or someone is highly personal and unfortunately, one loss can trigger feelings from  a host of others. Over the past few years, there has been way too much of it – the deaths of family members and friends, the unforseen  breakdown of a close relationship, and a temporary loss of identity and purpose as roles shift and self examination takes place.
We also grieve for the losses of others. Dementia, for example, takes a terrible toll People lose a loved one twice: the gradual, downward spiral until the person is not longer him or herself and then death itself.
Since I am in the grieving stage, this all sounds like doom and gloom, but there is hope. Some losses require forgiveness and understanding. Some require fresh ideas or altered paths to travel, an inventory of what is next in life. We never really get over the deaths of those we love but as many have pointed out to me, we may have wonderful memories to sustain us, as I do with Ascension.
My mind keeps going to Paul's words in Philippians 3:8: "What is more, I consider everything a loss because of the surpassing worth of knowing Christ Jesus my Lord, for whose sake I have lost all things" (NIV). Perhaps Paul is saying that none of these earthly losses compares with the joy of knowing Christ in a personal and intimate way. He is the one who gives us peace and holds our hand in the storm. Our own losses also enable us  to comfort others, to really understand their pain, even if the actual details differ.
And, as several friends have pointed out to me, Ascension is immortalized in a story I wrote and had chosen for publication in Hot Apple Cider with Cinnamon, edited by N.J.Lindquist. How many cats have a claim to fame like that?
If you are grieving be gentle with yourself, put your hand in God's and know that he will never let it go.
Thanks for listening.