In the 1980s, when we lived in the picturesque village of Kisbey, Saskatchewan, my husband ordered a small, six-inch lemon tree from a mail order catalogue. He was no doubt inspired by a lady in a nearby town, who successfully grew a lemon bearing tree. While our tree has yet to produce lemons, it has something unique to share.
As my clergy husband accepted calls to  pastoral charges across Canada, the tree learned that a ride in the back seat of our van signaled a major change. Over the years, the tree experienced all the cheerful chaos of living with toddlers, pets and changing scenery.  During one cold winter, the furnace in an otherwise cozy house broke down, and the little tree froze. However, it was brave and resilient and soon flourished as before.
Finally, after an especially long and noisy drive, the tree found itself in the province of Nova Scotia. At first, life was pretty much as usual. The youngest child entered first grade and the tree enjoyed the lull of quiet daytime hours. However, the tree began to sense that things weren't quite as they should be. The family moved again, this time into a huge building, such as the tree had never seen before.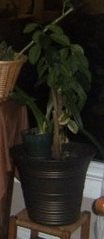 Its new place was in front of the window in the living room.Perhaps there was not quite enough sun, or perhaps the tree sensed its humans were working hard to keep their own leaves from wilting. Whatever the reason, one January the little tree failed to thrive. Its leaves turned brown and fell off. No new leaves took their place. All that was left was a woody and bare stalk.
It was time to face reality. The tree had enjoyed a long and eventful life, but the end had come. My husband would have none of it. He would not part with his tree. Finally, after months of looking at the tree's pathetic little stalk, I came up with a plan. Father's  Day was approaching. If my husband wouldn't give up his tree voluntarily, we would gently unfasten his grip. My thought was that we would buy a new lemon tree, remove the old one, and surprise my husband with a brand new tree on Father's Day.
I called a gardening shop but it had no lemon trees in stock. Then, the miraculous occurred: I looked at the woody stalk and saw a tiny bit of green. It was so small, I could have imagined it. "Look at this!" I said to my husband. "Do you think the tree is going to grow again?" We waited. More green appeared.The tree developed leaves. Once more, it flourished.
My husband received a remarkable Father's Day gift, but not in the way I had expected. He told me later that he had been praying for the tree every day. His prayers were answered. Given my plans, perhaps the tree sensed it was time to thrive!
This is the Father heart of God, to take a situation, a person or a difficulty, that looks beyond repair, and breathe into it new life. A small step, a little change, a tiny bit of green on a dead looking stalk may be the sign of much good ahead: blessings, fresh opportunities, healing and restoration. God tells us not to give up, because his blessings are fresh every day (Lamentations 3: 23).
Not very long after the tree recovered, it found itself in the back of a vehicle once more. Its humans  found a home they are happy in. God has touched their lives in innumerable ways and the tree is healthy and growing tall.
Have a Happy and Blessed Father's Day!