Being an October 8th baby, the Thanksgiving season has always held associations of plenty and pleasure. As a child, the birthday parties were probably the most exciting part, but now, years later, this holiday season fills with me nostalgia and joy. Yes, winter is on its way, but the leaves are gloriously festive and remind us that the cold and ice are not just yet. Summer lingers, with a trace, here and there, of warm and carefree days. Fall reminds us to focus, not on the snow and grey clouds, which are bound to come, but on what is here, present with us, golden days of harvest and bounty.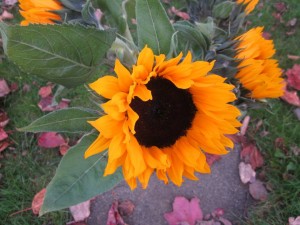 And so it is, with our hearts. My children, though grown, remind me that I am loved and valued, as we gather together to celebrate my birthday and Thanksgiving. What means the most to me is to see the wonderful adults they have become, each finding his or her way in life, and serving others through their own particular gifts and talents. For this, I am very grateful.
It is easy to focus on gratitude this week, with special family gatherings and our tables full of food. It may be easy to continue to focus on thanksgiving, as the stores fill with Christmas decorations, and the season of good will, of God come to earth, opens before us. However, during the sunless days of our lives, which come to us all, it can be just as  easy to forget that gratitude must be a way of living, and is as necessary to our well being as the food on our table or the water that we drink.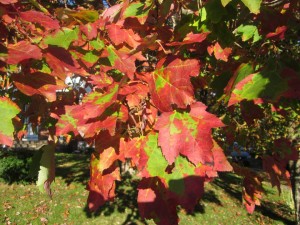 One simple way to focus on what is right in your life is to keep a gratitude journal. Find a special notebook and write down each day one or two blessings. As you do this, you will find many reasons to be thankful, and a delightful cycle will develop. The more you are thankful for, the more blessings will come your way.
My prayer for you this Thanksgiving is that God will "give you the desire of your heart and make all your plans succeed" (Psalm 20:4,NIV). May He bless you with the peace that comes from knowing that God is on your side!
Happy Thanksgiving!