When I was a child, growing up in Owen Sound, Ontario, it was inevitable that winter would bring a bountiful offering of snow. Since Owen Sound is situated in a snow belt, eventually the piles of snow would be stacked high along the roads. Even though I was warned not to climb these  snow mountains, the temptation was irresistible.
My relationship with snow was in those days uncomplicated. Snow was fun! Somehow, I could stay outside for hours, making snow tunnels and forts, tasting the snow on my tongue, and lying down on the ground to wave my arms and feet back and forth to make snow angels. My friends and I slid down the hill at Ryerson School  on sleds and landed in heaps at the bottom. We didn't seem to worry about how cold or wet we were, just the good time we were having.
Once I was an adult and had children of my own, snow became more challenging. We tussled with snow pants, jackets, hats, mitts and scarves. Since I was concerned about cold, little hands, I had strings put on the mittens, so the children were less likely to lose them. Still, my youngest daughter managed to misplace her winter jacket on the way home from school one day, and I have never figured out how! To provide winter entertainment, my husband built skating rinks in the backyard. We gathered up skates and helmets and later hockey sticks.The kids and I made paper snowflakes and other wintertime crafts and wiled away the hours with good books.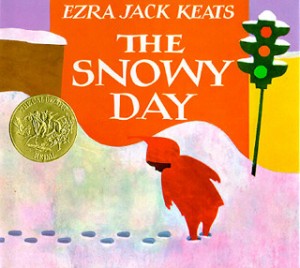 One of these was The Snowy Day by Ezra Jack Keats, a picture book  chosen in 1963 for the Caldecott Medal, because of its lively illustrations. The story begins: "One winter morning Peter woke up and looked out the window. Snow had fallen during the night. It covered everything as far as he could see." Peter spends a magical day outside, engaging in all the activities that  children enjoy.  A complication arises when Peter tries to continue the fun by stuffing his pockets with snowballs before he comes inside. However, all is well the next morning, and he is ready for another day of adventure.
Today, as a Nor'easter blows through Nova Scotia, bringing blizzard conditions, closing schools and making roads treacherous, my relationship with snow is again uncomplicated. It is the perfect opportunity to stay inside, sit at my computer, and write about snow. I am content to watch the flakes spinning past my window, and reflect on snowy days gone by.