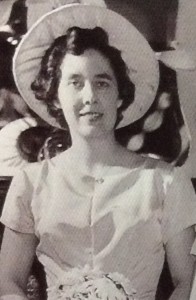 Today, I received a letter from a friend in Alberta. On the envelope was a  butterfly sticker with the words: "Delight in the little things." I was reminded of something my mother  once said: "Life has its mountain top moments but most of it is day-to-day living." Of course, she was right. Not every morning brings a mountain top view. However, every day can bring a sense of joy and appreciation of the little things.
My mother taught us this principle by the way she lived. It was a great deal of fun to surprise her with cards and small gifts, because she was delighted with the simplest of offerings that my sister, Brenda, and I gave her. I remember walking home in the late afternoon, from the downtown section of my hometown of Owen Sound,Ont., clutching a 35 cent card in my hands. Although I can't remember the exact occasion – perhaps it was Mother's  Day – the feeling of happy anticipation has stayed with me all these years.
My family was not wealthy but Mom knew how important small things were in our lives as well. When Brenda was in Grade 6, she had an afternoon birthday party to attend. Mom went out at noon and bought  Brenda her  first pair of pantyhose. She was thrilled not to have to wear leotards anymore! On one of my weekend visits home from university, Mom surprised me with a lovely, orange and green afghan she had made for me. It is worn and needs repairs now, but I still have it on my bed.
Sometimes, life throws us curve balls. Mom died, way too young, in 1997. I especially regret that my youngest daughter, Susanna, was not old enough to remember her. However, my mother  has passed on her heritage, her love and her lessons. When we are in a valley, and can't see  our way up the mountain, focusing with gratitude on our daily blessings helps us gain perspective and the strength to keep climbing.
Happy Mother's Day to all the awesome and caring women who make such a difference in the lives of others, in big ways and in small ones!