During the past months, I have been struggling with a sense of sadness and impending loss, not wanting life to change, not wanting to let go. Why? Two weeks ago my youngest child was married. This was my second experience being the mother-of-the-bride. When my oldest child, Ruthmarie, was married, there were some cliffhanger moments, such as the caterer cancelling a week before the wedding, but the emotional impact was minimal. Ruthmarie had been living on her own for eight years and I was excited to have my first son-in-law. We wondered which of our four younger children would be next. The marriage bug flitted by the middle three and settled on Susanna, the baby of the family. We were very pleased with the young man she chose but I was unprepared to let her go.I couldn't imagine not having her in the bedroom right next to ours, not having her rummage through my dresser for socks or coming home and filling our house with her sunny presence. At twenty she seemed too young, or so I told myself. I also struggled with issues of identity. If I wasn't a mother in an active state of parenting, who was I? So much of my life had been poured into my children, making sure they were safe, educated, loved and provided for. Letting go of Susanna felt like letting go of a big part of myself.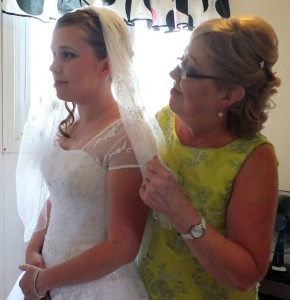 After months of planning, the wedding day arrived. Susanna was a radiant bride marrying a young man who will always protect and love her. I kept my emotions in check until Susanna danced with her father, to a sentimental tune. Then people started handing me tissues.
The house is very quiet now. My middle daughter and her friend, who live with us, are away on a road trip and my husband is busy with work. There are some tears but that's okay, and the solitude is not all bad. God reminds me that my roles are not confined to being a wife and mother, that I am his, and as I keep on with the responsibilities he has given me, he will guide me into my future. I also realize that I am very blessed. Susanna and Chris are settling into married life beautifully and making sure to stay connected with their families. My husband and I have five thoughtful children, caring sons-in-law, a lovely young lady who is like a fifth daughter to us, siblings and other family members, good friends, a faith-filled church, and a lovely home in a beautiful city. God is our strength and Saviour and his plans for us are good. And some day in the future, we hope our house will be ringing with the laughter of grandchildren!
Photograph by Karen "Ren" Strong