Recently, I looked through my tote box, where I keep wrapping paper, gift bags and ribbon, and found a box of children's Valentine's Day cards  featuring cats and dogs. Perfect, I thought, for my little friend. Sam has two cats, Daisy and Oscar, plus several dogs in his extended family.
On Valentine's Day, we celebrate much more than romantic love. We are reminded of the beauty of friendship and the love we have for our families. For many people, pets are both companions and family members. Animals often serve  utilitarian purposes  but a lazy cat, curled up in the sun, dreaming of its next meal, lives in our home for no other reason than mutual affection.
Although I don't mind dogs, and can become attached to a dog I know, I am definitely a cat person. When my husband and I were first married, he didn't especially like animals. Shortly after we moved into our house, a neighbour told us that her cat had a litter of kittens. My husband knew exactly what was about to happen. Soon we had a little black ball of fur whom we named Habakkuk, after an Old Testament prophet. Habakkuk complained to the Lord and our Habakkuk complained when his dish was empty. When meal time came, he would start chewing telephone cords. I had to move at top speed to get the food in his dish before the telephone wire was chewed right through. I didn't always manage to move fast enough because we had to get our phone repaired on several occasions.
About a year later, between church services on my husband's two-point pastoral charge, a little kitten wandered across the road and headed straight for me. I phoned the farmer she belonged to  and he said if I was pleased with her, she was all mine. Prissy was not the glutton that Habakkuk was. In fact, we had to feed them separately so that Habakkuk would not devour Prissy's food along with his own.
That summer, we moved to Saskatchewan with Habakkuk and Prissy in tow. Habakkuk did not like travelling and made his displeasure obvious with howls of protest. What was even more disconcerting, though, was the baby girl who joined us the following August. Neither cat could quite understand why we had brought such a small but incredibly loud creature home, and why such a fuss was made over her. This scenario would be repeated four more times. The cats and the children learned to live together amiably but Prissy was always a little jealous when a new baby arrived.
Prissy and Habakkuk and the cats that came after them gave us love, affection and many moments of amusement. Once, in the middle of the night,  my husband said to me, "That cat has to l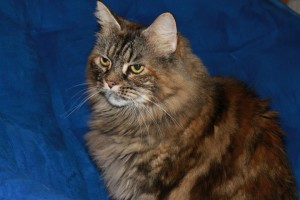 eave the room. She is ringing the wind chimes!" Naturally, being cats, they rule the house, covet the warmest spots to sleep, and make their wishes well known. It is a win-win situation, though, with the humans and cats giving each other love and attention. Several even managed to get themselves into print in the story,"The Cat We Didn't Need," published in Hot Apple Cider with Cinnamon, edited by N.J. Lindquist.
This Valentine's Day, give thanks for the blessings your pets bring into your life. Proverbs says, "The righteous care for the needs of their animals" (12:10, NIV). Look after your pets well and they will return abundant love to you.
Happy Valentine's Day!