I have a very close friend who hates writing letters, e-mails, texts or anything remotely connected with print. However, when she and her sister, Kathy, go on holidays, Kathy kindly takes on the role of Marie's amanuensis. Marie dictates and Kathy writes, throwing in a few comments of her own, such as her severe lack of compensation. Marie is highly talented in other art forms. During Marie and Kathy's last holiday, Kathy sent me a picture of Marie's latest  endeavour.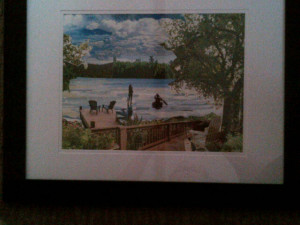 In Kathy's words, "It may look like one picture but it is hundreds of small pieces of paper or pictures that are glued together to make a picture of her vision of the view from the cottage that we are staying at. The pictures are from hundreds of magazines that she's bought to collect cottage, sky, deck and tree pictures from. She then cuts pieces from those pictures to create her vision of the cottage. It even has a cat! I can verify that she has spent at least 10-15 hours at my place this spring cutting out pictures and colours from magazines and then she has spent over 10 hours putting it together here. It truly has been a labour of love for her and she is pleased with the results so I thought I'd share her work with you."
Marie's work is breathtaking. I can't imagine the patience it would take to create a complete picture from tiny pieces of paper. Marie takes what seems to be insignificant or torn and brings wholeness and  beauty. She is a creator, with a clear vision of the potential these scraps of paper possess.
Isn't that what God does in our lives? We can't see the whole picture. Some of the pieces may seem missing, ripped or meaningless, and we can't figure out how to incorporate them into something significant. We can't find the missing pieces, the solution to a problem, a way to bring more healing and happiness to others.
Just as Marie saw the final picture put together,  God sees it in our lives.  He knows the end result. He knows which pieces fit and which to throw away. He wants nothing but the best for us. We simply need to listen to his voice and let him direct us as the scraps are assembled.
I don't worry when Marie doesn't write to me. If I push hard enough, such as putting: "To my elusive friend, please write back" in the e-mail subject line, sooner or later, I will hear her voice or get a reply. As well, there is her faithful sister,  who sacrifices some of her holiday time, to be Marie's personal secretary.
Marie puts the pieces together, a job she is good at not only in art but in her relationships with others. When our own lives don't make sense, it is  because we don't  see the finished product, but we can trust that God is in the business of placing each scrap in its proper place.