"Your Mother's Day gift is over-the-top," said my youngest daughter, Susanna, as we prepared for our small charges to arrive for Sunday School. My children are normally thoughtful and generous but I had no idea what this gift might be.
After church we enjoyed lunch together. There was a special aura of excitement about my gift and the family urged me to open it.  A pretty spray painted box sat on the coffee table. Inside was this: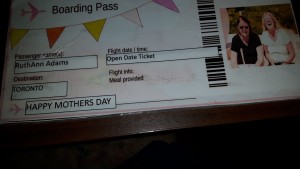 My daughter, Andrea, with her creative flair,  had  made up a piece of cardboard  to look like an airline boarding pass.  It included a picture of my sister, Brenda, and I. Although my family and I had left Ontario to move to Nova Scotia 17 years ago,  there were times when I greatly missed being "home." I called Brenda and put my cell on speaker phone so everyone could hear her reaction. We were both very excited that I would soon be flying to Ontario.
The  timing was perfect. Perhaps my children sensed that I needed time away to process all that had happened over the past few years. There had been too many deaths, too many losses, too many changes, and with them questions I couldn't adequately answer.  I needed my sister. I needed to go home.
Right from the start, my trip began filling me with a sense of peace. My close high school friend, Marie, met me at the Toronto airport. We talked about her adjustment to retirement and mine to my swiftly emptying nest. I had been asking myself, "If I am not a full time mother, who am I?" I am extremely blessed with my five adult children and their life partners but sometimes miss the little ones who sat on my knee. Marie is using her artistic talents to help with her life changes and over the week, I gained a new motivation to put a pen to paper (translate keyboard and computer). After having a delicious lunch together, Marie drove me to my sister's home in Brantford.
I  hugged and hugged Brenda and was thrilled to see my brother-in-law, Mark, and nephew, Ben. The next days were filled to the brim with activity. I met some of Brenda's friends, people who were bravely coping with difficulties in their own lives. Several friends from university days made trips to visit me. In both cases, I had not seen these dear friends for more years than I care to admit. We had reconnected on Facebook but to actually see them, hug them, catch up on their lives and meet one friend's husband was an indescribable experience. We were older (well that happens) but essentially the same people. I asked them how they had coped with their children leaving home. When we were in university we likely talked a lot about boys and future husbands but this time we talked about our kids and past or present careers.  I was touched and reminded, as I had been the summer before when visitors arrived,   that no matter how much time goes by, those who are truly your friends will remain so. Karen and Beatrice, we will not let so many years go by again!! My family and I also had a wonderful visit with my husband's sister and brother and his sister's husband.  I felt very impressed with an important  project my sister-in-law is undertaking. She has the same drive my mother-in-law had.
On the weekend, we drove to Owen Sound,  the city where Brenda, Mark and I grew up, the place I think of as "home." We stayed with Mark's mother, Donna, a  lady who is quite an inspiration with all her  interests and activities. On Saturday  morning she drove me to Inglis Falls, Weaver's Creek Falls and Harrison Park. I was struck by the sheer beauty surrounding Owen Sound. Even though, I had been back to Ontario  on a number of occasions, this time I felt more than ever that I was home. In the afternoon, we sat  in Donna's backyard, which includes an immense flower garden, a pool  and waterfall, and visited with my cousin, Cindy, her husband, and a close friend of mine from elementary school who I love to see when I am in Owen Sound.   Cindy's brother, Doug, had died the year before, too young and  very unexpectedly. It is  not easy to accept that one of the five "cousins" is no longer with us. Brenda, Cindy and I needed this chance to be together.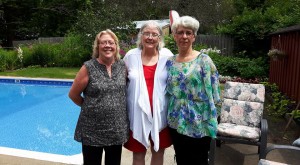 The next day was the hardest but also brought a sense of closeness. Mark's brother and his wife drove to Owen Sound and we went out to the cemetery to visit Sarah's grave. Mark and Brenda's daughter, Sarah, had died nearly three years ago. This had  marked the beginning of the things I was struggling with. She was only 31, just months older than my first child. Sarah's grave stone had just been put in. We took solace  in being together again as a family, all feeling the same emotions in our love for Sarah Jane. I kept my arms tightly wrapped around Brenda, as Mark did a beautiful service, emphasizing the resurrection of the dead. Yes, some of us cried, but we gained a greater sense of closure.
Shortly after the service we returned to  Brantford and the next morning Mark drove me to the airport. I didn't want to leave my sister, didn't want to leave Ontario. For that brief week, I had felt so strongly that I was home again. I still didn't have all the answers, but something  deep in my heart was starting to heal. Brenda's courageous and accepting attitude towards life had touched me. My friends had reminded me that true friendship never fails. We had come another step forward in our grief over Sarah's death.  I don't know what the future holds but God impressed upon me the verse, "…Be still and know that I am God…"(Psalm 46:10, NIV). He knows all the answers, what is ahead, and shows His love for us every day.
And when I saw my daughter, Hannah, at the airport in Halifax, I  knew I was home!