Today is my husband, John Andrew's, birthday. Now in his 60s, his dark brown hair has  developed a few patches of white. He is calm, serious, kind and loves to challenge people with trivia questions. Over the years, though, I have heard stories of a younger, different Andrew, capable of driving his parents and other authority figures to distraction. The story I am about to share, in honour of his birthday, is his favourite and mine.
In the late summer of 1960, Andrew was five and a half. His mother was expecting his baby brother, Christopher. The family were living  in Saskatoon, Saskatchewan, not far from where Andrew's father, John Adams, grew up. Andrew's maternal grandfather was visiting, awaiting the new arrival. In order to give Mom a break from caring for a very active little boy, Dad, Gr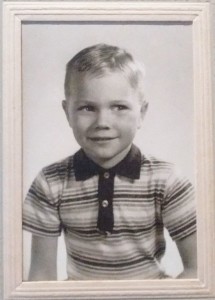 andpa and Andrew went for a trip to the foothills of the Canadian Rockies.
By August, the long days of sunlight and limited precipitation had taken their toll on the vegetation. Andrew looked out the window of the car and saw brown, barren land. The grass had turned yellow and most of the beautiful wildflowers had disappeared or gone to seed. Some of the trees had started to turn yellow, a contrast to the faithful evergreens. Harvest was about to burst into full swing, with harvesters, combines and grain trucks.
The rambunctious five-year-old was hot and probably a little bored. Their route was taking them along a highway  which was  away from any major centre.
"I'm thirsty!" Andrew said.
There weren't many places to choose from. Finally Dad and Grandpa found a roadside Orange Crush concession booth. Dad stopped the car and the three of them went in.
"What do you have to drink?" Andrew asked.
"We just serve Orange Crush," the clerk explained.
"I don't want Orange Crush," Andrew complained.
Dad and Grandpa grumbled as they took Andrew back to the car.
"I'm still thirsty!" Andrew whined.
About 10 to 15 miles down the road was a hotel with a diner. This might prove more promising. They went in and sat on the  bar stools in front of the counter. The interior was dark. The middle aged lady behind the counter was occupied with another customer, Andrew was restless. He begin to swing over and over, round and round, on the bar stool.
"Stop that, Andrew," Dad commanded, increasingly irritated  with his young son's behaviour.
Finally, the lady was free to serve them. "What kind of drinks do you have?" Andrew asked.
"We have Coke and Orange Crush."
Andrew didn't want Coke. He realized that Dad and Grandpa were unlikely to take him to a third place, so he said, "Okay, I will have the Orange Crush."
It was all Dad and Grandpa could do to keep their tempers under control on this hot August day in the Rocky Mountain  foothills. However, Andrew got his drink, most likely having no idea why they were so annoyed!
Happy Birthday to my beloved husband! We will make sure that there are other selections of drinks at your party, besides Coke or Orange Crush!