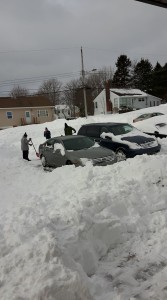 Happy Valentine's  Day from snow bound Nova Scotia! More people may be shovelling than having romantic dinners  today,  but we can  still choose to focus on  love and friendship. As my husband and I shovelled, we laughed with our neighbours, making the task much easier, more like an occasion than a chore.
Sometimes life is just hard. Relationships shatter, often for no apparent reason. People hurt each other and find it hard to forgive. Dreams fall apart or do not play out as we had hoped. Loved ones die. Life's problems and heartaches sometimes make it necessary to live one day, one moment at a time.
However, we were never meant to live our days in sadness or despair. The Psalms are full  of action words such as: sing, rejoice, praise and worship. There is a time for grief but also a time for dancing. God loves us. He will never let us down. Situations will change and we will walk with a lightness of heart again. Keep smiling. I have heard it said more than once that smiling confuses the devil.
Today might not be the perfect Valentine's Day. However, you can laugh while you are shovelling, dance in the snow, think of those you love, and remember that spring is not that far away.
Happy Shovelling….I mean, Valentine's Day!